How does 70 years of
success sound?
About Us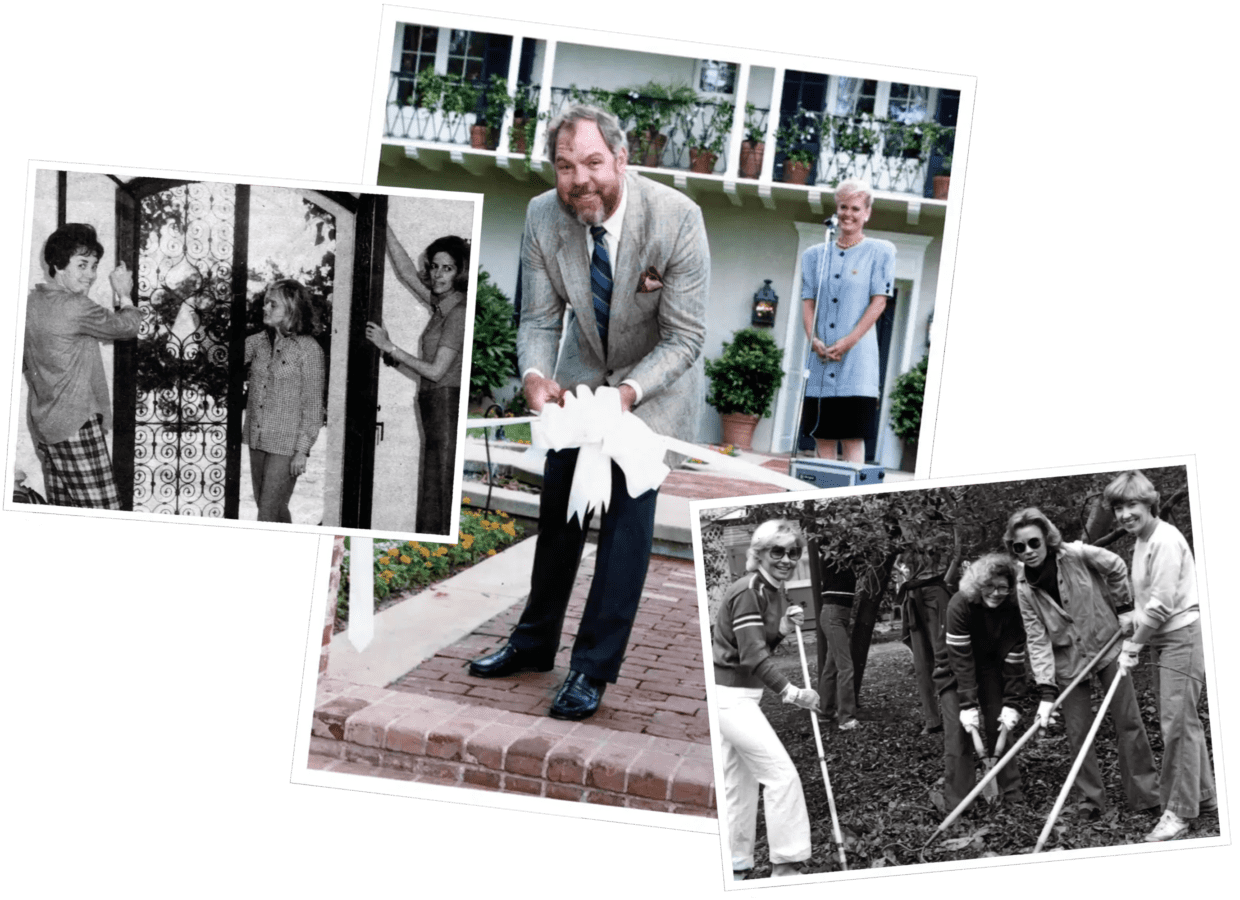 Throughout the years, Showcase has been a roll up your sleeves, hands-on experience for its dedicated members. Actor and Pro Football Hall of Famer, Merlin Olsen, cuts the ribbon to the 1988 Showcase House on Opening Day.
An

all-volunteer

organization
We are an all-volunteer army of enthusiastic and dedicated dreamers, doers and donors. People who gladly give their time and talents to produce the annual Pasadena Showcase House of Design.
A great time for a great cause
A California non-profit founded in 1948 – and formerly known as The Pasadena Junior Philharmonic Committee, we adopted the Showcase House as our annual benefit in 1965. "A great time for a great cause."
The Showcase House quickly became a local phenomenon and has emerged as one of the oldest, largest and most successful house and garden tours in the nation.
Pool - 2018 Pasadena Showcase House of Design - Huntington Pools, Inc.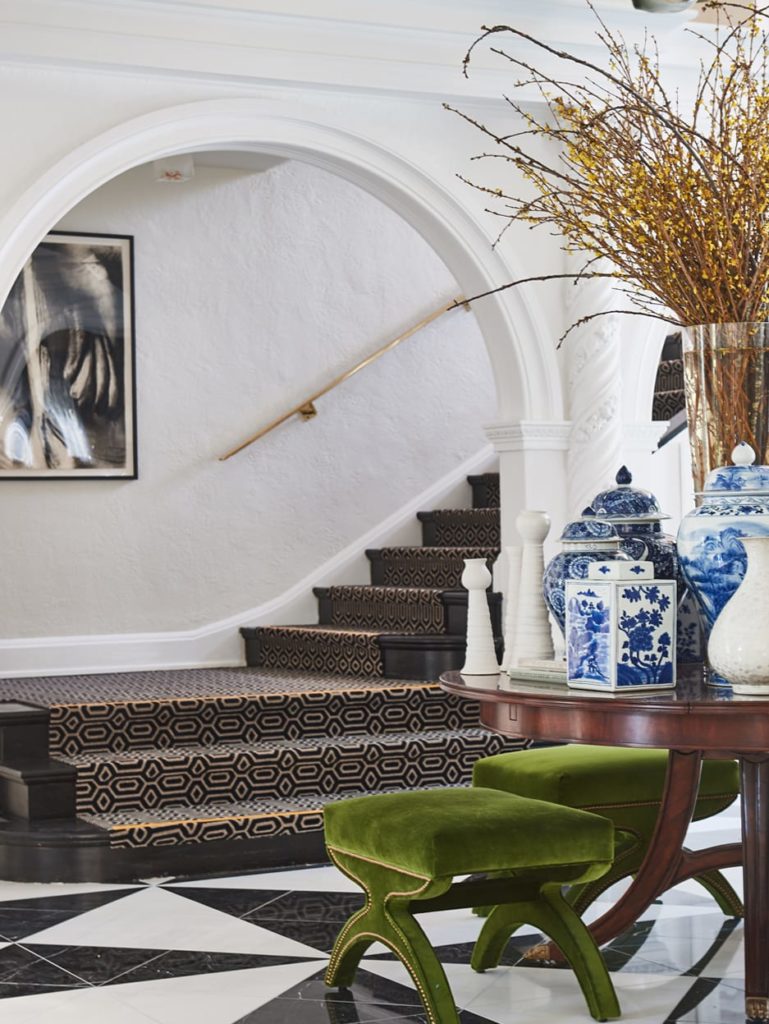 Grand Foyer – 2018 Pasadena Showcase House of Design – Amy Peltier Interior Design & Home
Legendary in the community
This is amazing, but not surprising. About 80 stalwart members – many decades-long volunteers with diverse skills and accomplished backgrounds – are needed each year to produce an event of this size and scope.
Many members work fulltime at their Showcase "jobs", setting the gold standard for volunteerism in the process.
Our service to the community is legendary – as is the support of approximately 200 Associate members who provide financial support and lend a hand to the Showcase cause.
PSHA supports the community by awarding grants. California Philharmonic Orchestra is a past grant recipient.
We love the work for good reason: Our community, the people we work with, and the belief in the joy and captivating power of music.
But dreams take money. So our volunteers work countless hours to generate financial support that benefits the community through diverse music programs. These programs nurture the study and appreciation of music. They provide music as a vehicle toward health, healing and music education. They underscore that music enhances other academic subjects as well cultural enrichment. And that music is available to a broad range of audiences.
It's amazing how much generations of vision and generosity can accomplish working together.
Buying tickets builds dreams. The proceeds from the Showcase House, along with the donations we receive, make funding three annual music programs possible. What's more, we award gifts and grants to other nonprofit organizations that provide music programs.
1948 was a year of transformational events for music loving Americans. It marked the introduction of the first transistor radio. It ushered in the first 33-rpm long-playing record – a.k.a. "The LP." And here in Pasadena, a group of music enthusiasts convened over tea at the home of Mrs. John B. Callery to launch a music legacy. Operating as the Pasadena Junior Philharmonic Committee with Mrs. Callery as president, plans were made to raise money for the Continuance Fund – later called the Los Angeles Philharmonic Association – to help pay for the Pasadena series of concerts by the Los Angeles Philharmonic.
A Pasadena Junior Philharmonic Committee has been formed. Composed of prominent members of the younger set, this organization came into being at a meeting and tea on October 8, in the home of Mrs. John B. Callery, Jr., who has been named president.
Article, dated October 14, 1948
The 18 founding members met their early fundraising goals with a series of traditional events: a shipwreck party, a casino night, an assortment of bridge tournaments and gatherings around a popular new thingamajig called a television. The TV parties were well received as they had an added attraction for guests. People could dress up as their favorite TV stars. In those early years, the parties brought in $3,000 to $5,000 annually. That translates to between $32,000 and $54,000 in today's dollars. No small change, but something bigger was on the horizon.
The idea for the Pasadena Showcase House of Design was suggested in 1965 and fate smiled. The Pasadena Junior Philharmonic Committee, later known as Pasadena Showcase House for the Arts, opened the doors to the first Showcase House and the whole town came.
With an abundance of imagination and hard work from the Committee, community support was enthusiastic and abundant. They raised over $11,000 the first year. Admission to the first Showcase House was $1.50, which included coffee and cookies. Approximately 7,500 attended. Street parking was in short supply, so automobiles often camped on a neighbor's lawn. By contrast, today's tickets range from $35 to $60 and visitors are shuttled in from a nearby location.
In 1970, "Art Sales," provided by two local artists, joined the marquee. Today, roughly 25 vendors fill the Shops at Showcase and do a brisk business. Refreshments evolved from free coffee and cookies to lunches provided by members. Next came a cafeteria. Then a full-service restaurant, a Gourmet-to-Go station, al fresco dining, wines and pubs.
What a long, lively and fascinating trip it's been. A testament to the unshakable dedication of PSHA members, the countless hours they volunteer, the talent and financial commitment of the designers and so many others who donate their time, services, products and money. Thanks to them, the Pasadena Showcase House of Design has become one of the oldest, largest and most successful home and garden tours in the country.
Seond Vice President - Benefit
Third Vice President - Finance
Fourth Vice President - Gifts & Grants
Advisor / Parliamentarian
Public Relations / Marketing
Associate Representatives
Erin Dundee &
Marybeth Rehman-Dittu
Stay Connected
Sign up for updates and follow us on social media to get the latest news.