The 58th Pasadena
Showcase House of Design
STEWART HOUSE
2023 Pasadena Showcase House of Design 
Welcome to Stewart House, a 1933 grand colonial estate with spectacular acreage in a storied Pasadena neighborhood.
Designed by Marston & Maybury, one of Pasadena's most celebrated architectural partnerships, Stewart House takes us back to the days of gracious architecture and quintessential Showcase with over 11,000 square feet of living space sited on two acres of carefully landscaped and exquisitely manicured grounds. Featured in 1983 as the 19th Pasadena Showcase House of Design, we are revisiting this incredible property, stewarded by the same family for nearly 40 years, to reintroduce this majestic estate to a new generation.
Situated on park-like grounds, this distinguished American Colonial estate leaves a striking first impression with an expansive verdant lawn, circular driveway, and iconic portico. An elegant foyer with a Georgian staircase greets upon entry, leading to a stately living room with fireplace and a bright, airy sunroom overlooking the rear gardens. The entertaining space continues with an impressive gallery bar adjoining a warm paneled library as well as a formal dining room. Completing the main floor are a large butler's pantry and morning room, an open kitchen and family room, a laundry room, and two guest bathrooms. The second floor comprises four bedrooms and three bathrooms, each with beautiful vistas of the grounds, and a spacious primary suite with fireplace and French doors that lead to a generous veranda.
Complementing the main residence, the estate features a large guest house with recreation/media room, four-car garage, pool, changing rooms and pool cabana, and an enclosed tennis court. The grounds showcase a variety of themed gardens including an Asian garden, vegetable garden, rose garden, a children's play garden, and a café terrace. One of the highlights of Stewart House is the vast collection of sculptures and statues ornamenting the property.
In the days of the great ranchos, the land was part of Lucky Baldwin's Rancho Santa Anita and later served as a flourishing orange grove. Arthur Stewart and his wife Ruth Nicholson Stewart received the land as a wedding gift from W.L. Stewart, Arthur's father and president of Union Oil Company. They built their home at a cost of $13,000—a large amount for a new house during the Great Depression—and lived with their two young daughters. They led a quiet, country life, with a stable and corral at the back of the property where the girls kept a horse. Nearly a century later with detailed improvements, expansions, and magnificent landscape developments, it's now hard to believe this estate was once the home for a quiet, country life.
This exquisite Showcase House will surprise and delight with the latest lifestyle trends highlighted by our 32 talented interior and exterior designers.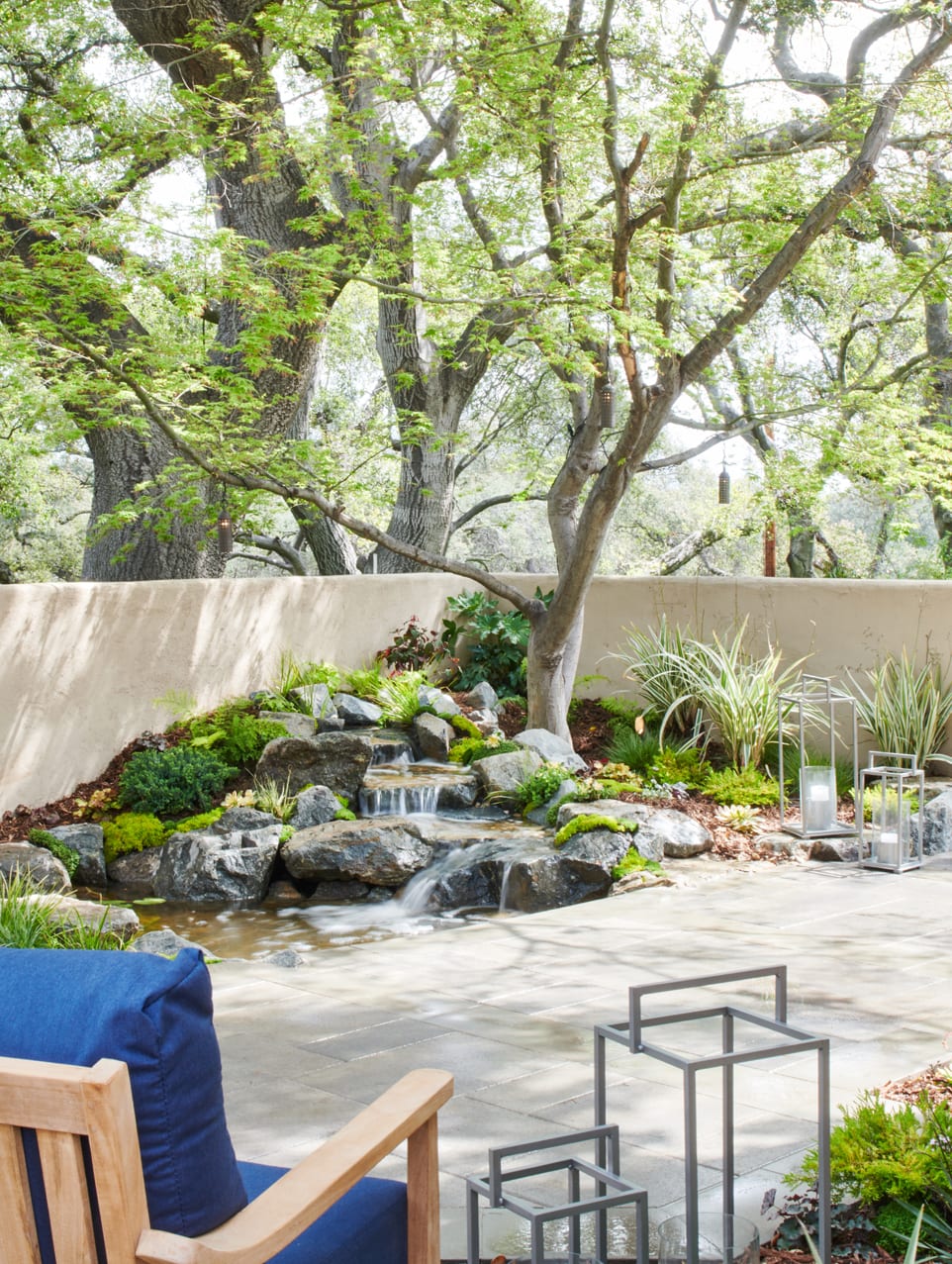 Hidden Oasis – 2019 Pasadena Showcase House of Design – California Waterscapes
Pasadena Showcase House of Design is the fundraiser produced by Pasadena Showcase House for the Arts to fund their music programs and award gifts and grants to other non-profit organizations to support their efforts. It is open for tours mid-April to mid-May.
What does it take to be a Showcase House? There is no ideal house that meets all the criteria; so, every year the advantages are weighed against the disadvantages of the properties available for that year. Some years we have a plethora from which to choose, and some years, well, there are fewer. Two staircases is at the top of the must-have list, a wide road for the shuttles, space for Shops, porta-potties, trash, etc. are the practicalities that influence the selection.
Sometimes there are grand mansions and other times charming homes on a smaller scale are chosen. No matter the square footage, each estate is renovated from top to bottom by leading designers using the latest concepts and materials. So, indulge your inner looky-loo. Take a look behind the gates and come have a good time. And, it doesn't hurt that you're helping support your community at the same time. What a deal!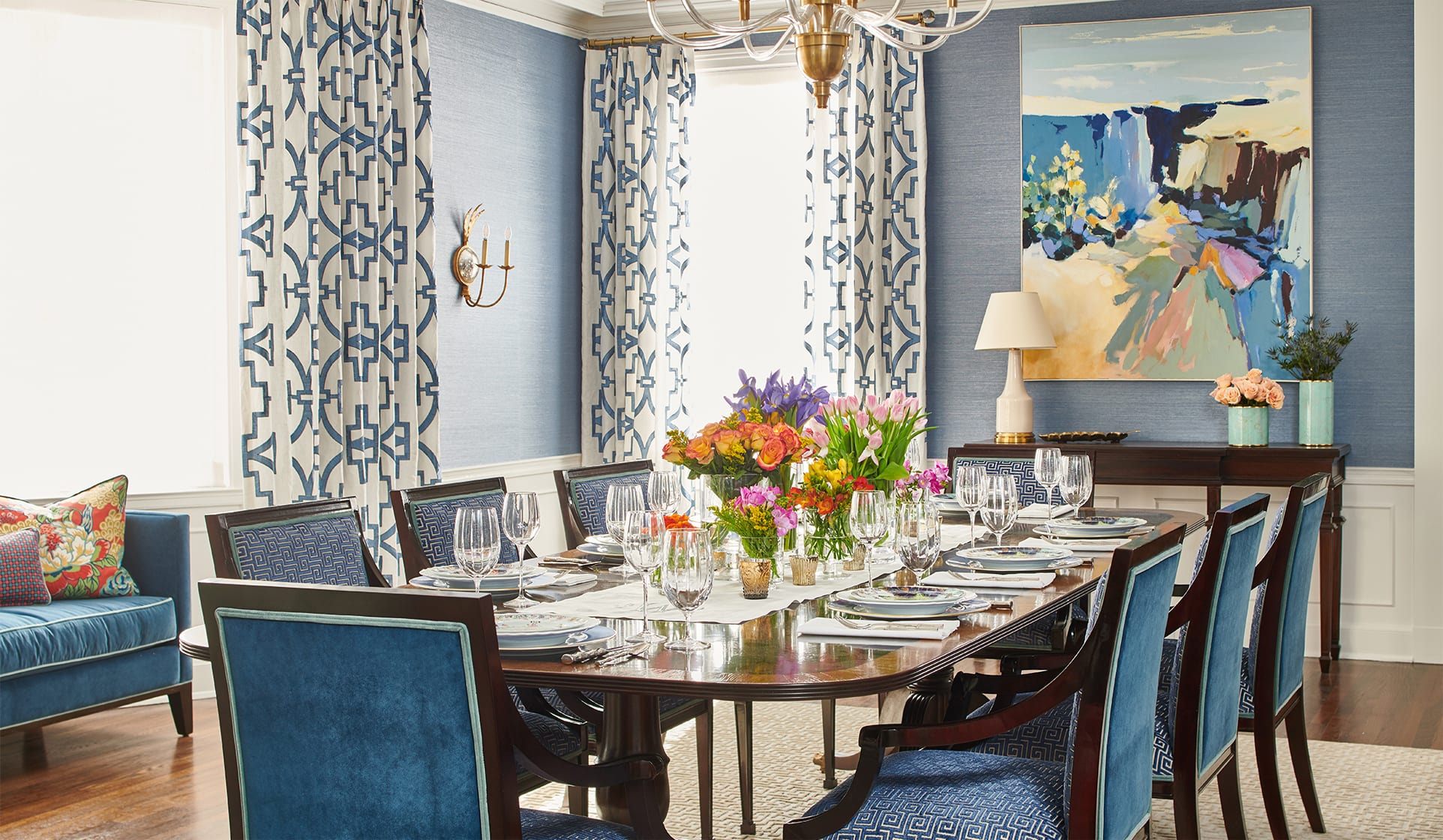 Dining Room – 2019 Pasadena Showcase House of Design – Samantha Williams Interior Design
PSHA has been fortunate to have a long time relationship with Sponsor Dunn-Edwards Paints that has sustained us for over fifty years and has grown stronger.
They have provided paint, and that alone, is worthy of our deep gratitude because it is a generous contribution that makes a significant difference to this project.
Additionally they have helped to guide us about upcoming color trends from their mountains of research. We have also asked for their assistance in marketing the Showcase House and like good friends they always come through for us. And then when we said, "By the way, we need money too," they were there with a substantial check.
It is hard to know how to thank friends like this. In 2019 we commissioned this poster and presented it to Dunn-Edwards Paints at a special meeting of members and designers before the first tour of the 2019 Showcase House. It was a small gesture but full of sincere appreciation to try to express how important this relationship is to us. Their paint, their support, their expertise and their friendship are invaluable.
Room & Board
(Carter White &
Amy Hy-Alarcon)
G & A Artistic Landscaping and Gardening
Everything's Coming Up Roses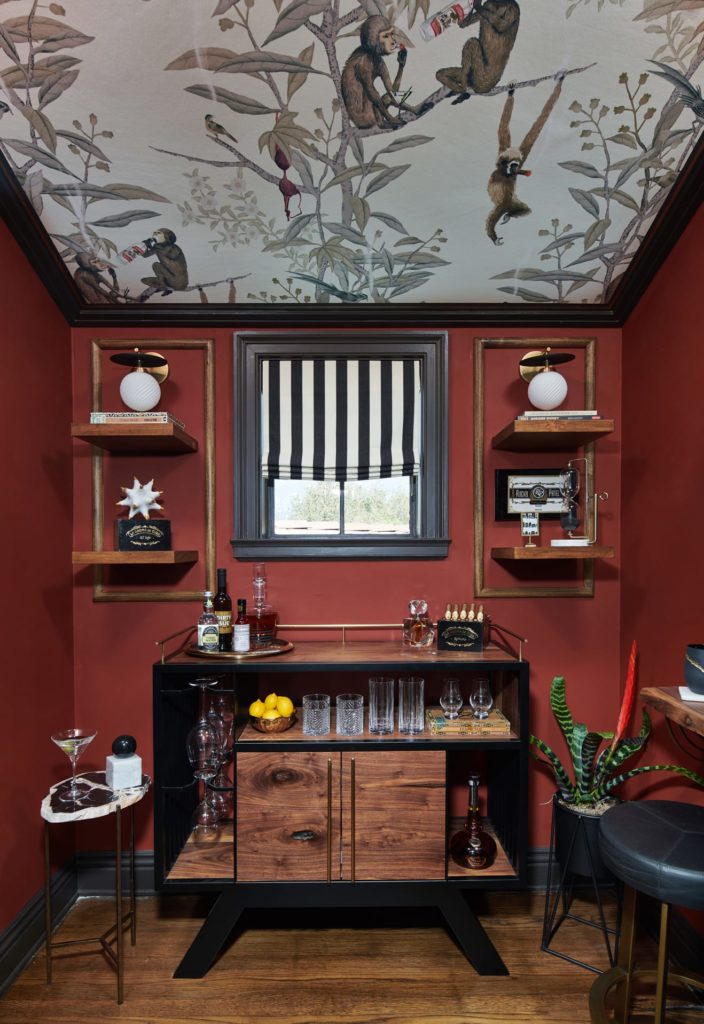 Cigar and Craft Retreat - 2019 Pasadena Showcase House of Design - Studio Akiko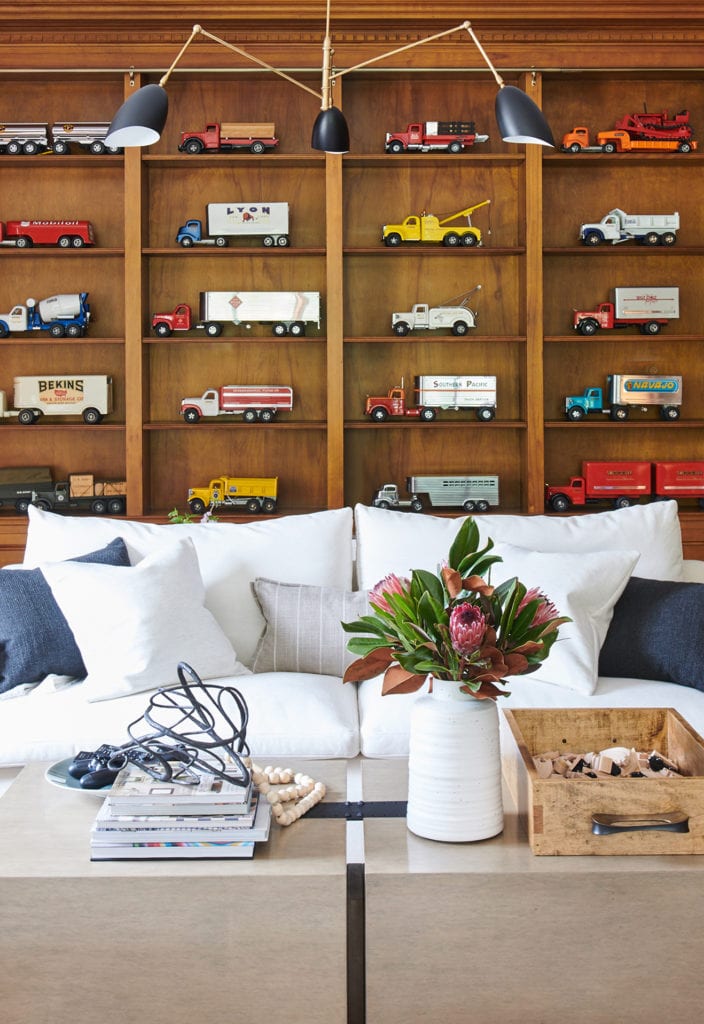 Modern Family Salon – 2019 Pasadena Showcase House of Design – Four Point Design Build, Inc.
Breakfast / Morning Room – 2020 Pasadena Showcase House of Design – Cozy•Stylish•Chic
Each year the Showcase House is enhanced by culinary offerings. Depending on the space available, it can include a full-service restaurant, a Gourmet-to-Go quick service option, a pub, al fresco dining, a wine bar, or all of the above. 
For 2023, Roe Fusion and Phillip Ozaki, Owner and Executive Chef was selected to cater the Restaurant at Showcase.  This local restauranteur is known for using the dynamic flavors of Japanese cooking with the familiarity of American steakhouses. They will provide a selection of delicious offerings that will be available throughout the day.
Join us for our Sunday Brunches with Bottomless Mimosas or Friday Night Theme Dinners. Make your reservations by purchasing Brunch and Dinner Tickets.
Additionally, a selection of fine wines will be available to complement your dining experience.
Please come by. We know your visit and your day just got a bit better.
Unique jewelry offered by Designer Sterling in the Shops at Showcase.
An essential of the Showcase experience is visiting the Shops at Showcase. The Shops features merchants from throughout California who have been carefully selected to offer visitors a variety of merchandise and prices. There is literally something for everyone!
The Shops include unique designer jewelry, charming linens from Provence, a selection of delectable gourmet food items, clothing that ranges from the edgy to classic, lovely gift and garden items, specialty cards, and assortment of housewares from practical to luxurious.
Many Showcase visitors enjoy the opportunity to shop for holidays, birthdays, and other celebrations. Visitors may return to The Shops at Showcase without a ticket at any time during Showcase is open to the public.
See you at Shops at Showcase!
Blasts from the past. We've uploaded the Programs from past Showcase Houses. Feel free to browse. And, the transformation videos that are shown on the shuttles are posted here, too. Get some popcorn and settle in. It's a fascinating look back.
Stay Connected
Sign up for updates and follow us on social media to get the latest news.