The 59th Pasadena
Showcase House of Design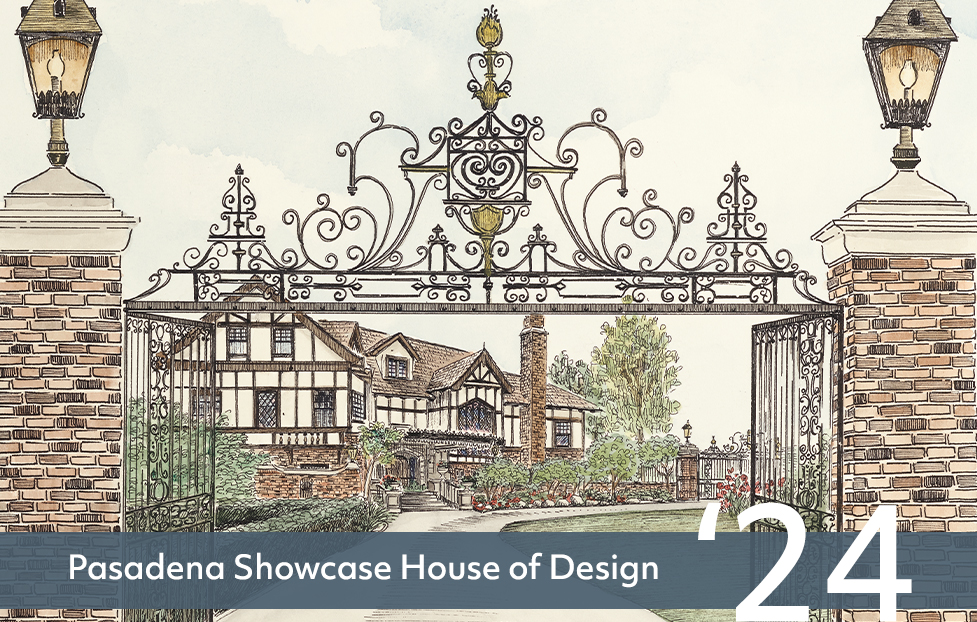 POTTER DANIELS MANOR
2024 Pasadena Showcase House of Design 
The 2024 Pasadena Showcase House of Design boasts a significant historic background, several storied owners and even a prestigious designation as a Pasadena City Landmark. This stately English Tudor Revival Style home was once named "El Roble" by one of its prominent residents, a Spanish translation in honor of a stately oak tree that once graced its magnificent front lawn.  In recent years it has been referred to as Potter Daniels Manor, honoring its original owner while also paying homage to its second but more famous owner's English heritage and inspiration.
Commissioned by Gertrude Potter Daniels, wife of a wealthy Chicago businessman, the home was originally built in 1902 by Joseph J. Blick, one of Pasadena's pioneer architects, as a "winter home" for the Daniels and their two young sons.  The graceful, shingle-style structure cost $15,000 to build, a significant amount for that time.  With a magnificent setting overlooking the Arroyo Seco and surrounded by vistas of vineyards and citrus groves, the home was a charming, grand place to entertain.  Many prominent people walked through the doors of the home, including President Theodore Roosevelt. 
Just three years later in 1905, the home was sold to Susanna Bransford Emery Holmes, again to serve as a winter home.  Mrs. Holmes gained fame as the "Silver Queen" after her late husband, Mr. Emery, struck it rich in Utah organizing the Silver King Mines.  With the acquisition, and no expenses spared, came a new set of distinctive but worthy architectural changes.  The Holmes entertained lavishly in their winter home for many years and in 1922 decided to make it their sole residence.  Inspired by her European travels during the years, Mrs. Holmes hired the Postle Company of Los Angeles, builders of the Pasadena Playhouse, to completely remodel the home into the English Tudor Revival Style mansion that exists today.  Costing $37,000, the home little resembled its former version but was one of the most impressive houses in Pasadena.
Situated behind high iron gates on over an acre of property the home's picturesque, traditional appearance delivers the magic of a classic storybook home.  The elegant façade predominantly covered in a brick exterior is highlighted by an eye-catching, two-story leaded glass window, creating a romantic but old-world feel.  The interior complements the design style with a grand walnut paneled foyer and a monumental stairway, complete with carved banisters and rails, ascending to the second floor.  The first floor lends itself to entertaining with a banquet sized dining room and a stately living room opening onto a covered terrace running its entire length. Completing the space is an oak paneled library, a sunroom, a butler's pantry and kitchen.  The second floor is comprised of a large primary bedroom running the width of the house with a fireplace and a sitting room.  A balcony and windows on three sides of the room allow for a breathtaking northwest mountain view.  Three additional bedrooms, all with their own bath, complete the second floor. 
The majestic home has a third-floor large attic with three bedrooms and bathrooms as well as a small kitchen. A striking feature of the space is the two cedar lined walk-in rooms that were once used to store the owner's collection of furs.
A two-story, castle-like gate house on the estate complements the main residence and is designed in the same style and attention to detail.  A four-car carriage house with a separate chauffer's quarters on the property once included its own gas pump along with a working area for use by a mechanic.  Beautiful flat, flowered grounds and winding paths around the home end at the back terrace providing another grand view of the Arroyo Seco.
Other prominent owners of the home include Anne C. Newcomb, the widow of James Newcomb, a founder of Standard Oil.  Mrs. Newcomb's additions to the home included marble floors and an elevator.
The 2024 Pasadena Showcase House of Design may look familiar to many since it has frequently been a setting for movies, television shows and advertisements.  "Eleanor and Franklin," "Foul Play," "The Christmas Box," and "Bachelor Party," are some of the movies it has appeared in, while television shows include "McCloud," "Falcon Crest," "Quantum Leap," and "Remington Steele."   Long time attendees may also remember the home when it was the 1996 and also the 1975 Showcase House of Design.
Rich in detail and with its striking features, this distinctive property is utterly charming and has timeless allure.   Transported to another era of elegance and enchantment, the home achieves its storybook ending.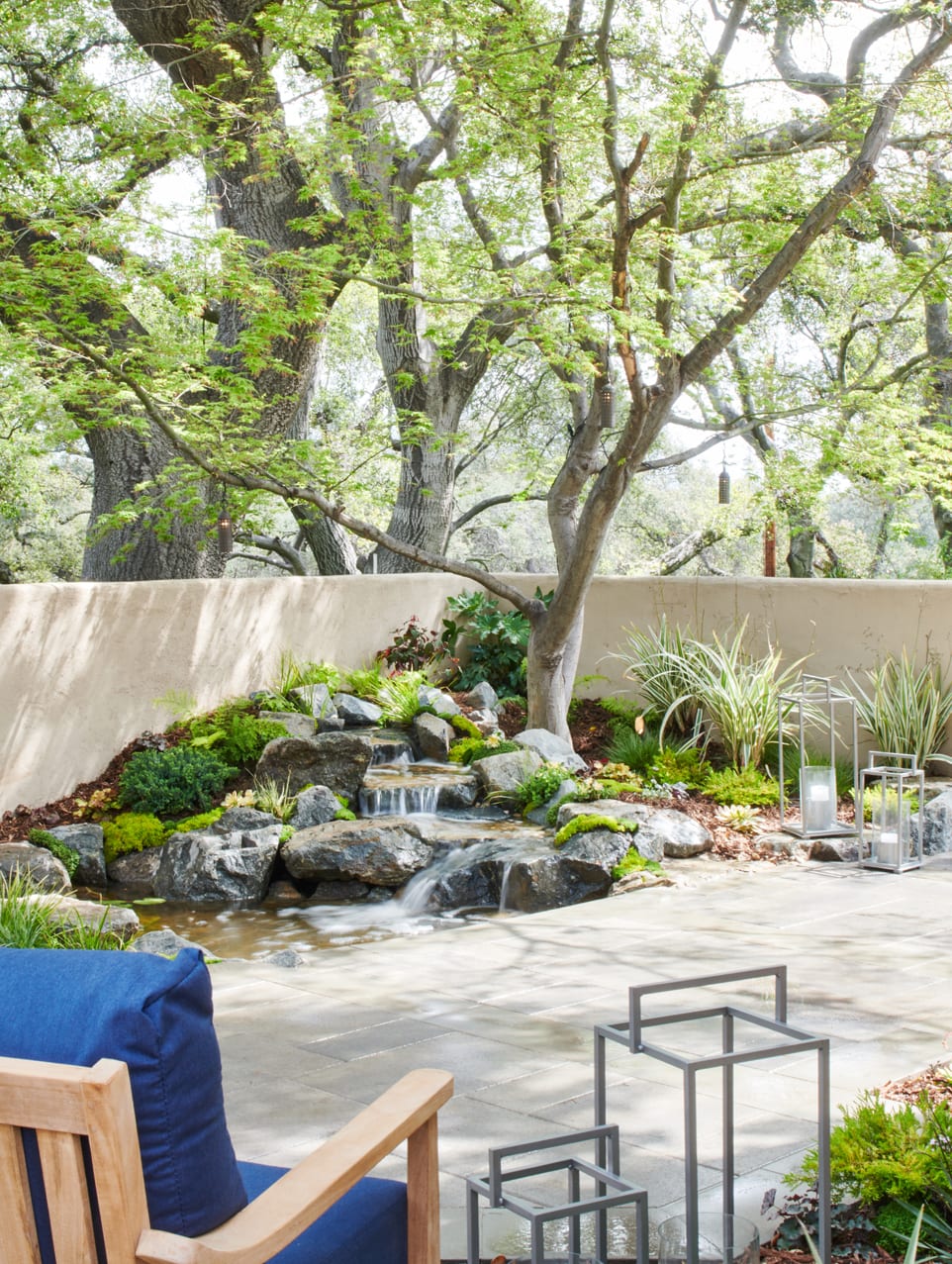 Hidden Oasis – 2019 Pasadena Showcase House of Design – California Waterscapes
Pasadena Showcase House of Design is the fundraiser produced by Pasadena Showcase House for the Arts to fund their music programs and award gifts and grants to other non-profit organizations to support their efforts. It is open for tours mid-April to mid-May.
What does it take to be a Showcase House? There is no ideal house that meets all the criteria; so, every year the advantages are weighed against the disadvantages of the properties available for that year. Some years we have a plethora from which to choose, and some years, well, there are fewer. Two staircases is at the top of the must-have list, a wide road for the shuttles, space for Shops, porta-potties, trash, etc. are the practicalities that influence the selection.
Sometimes there are grand mansions and other times charming homes on a smaller scale are chosen. No matter the square footage, each estate is renovated from top to bottom by leading designers using the latest concepts and materials. So, indulge your inner looky-loo. Take a look behind the gates and come have a good time. And, it doesn't hurt that you're helping support your community at the same time. What a deal!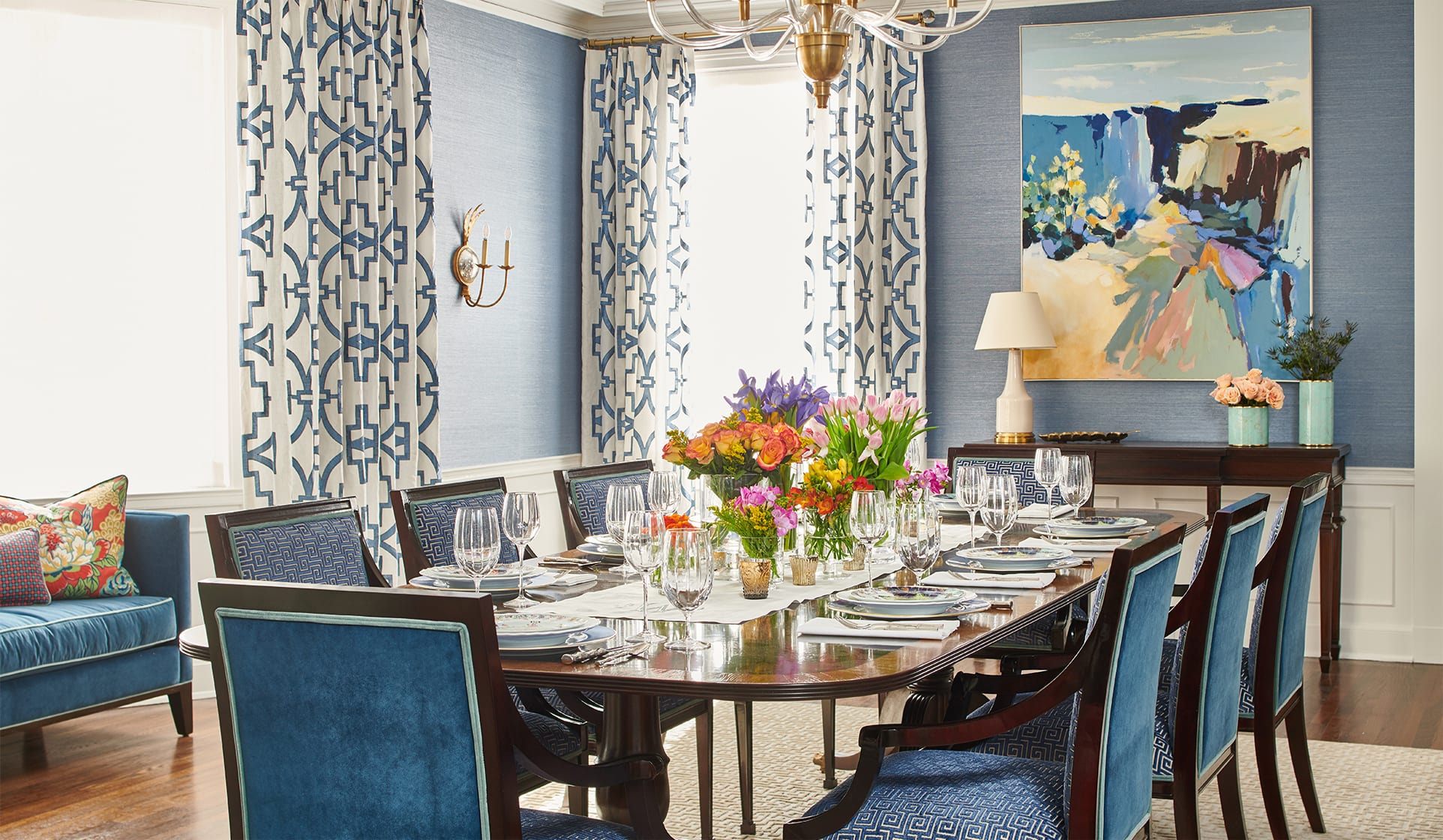 Dining Room – 2019 Pasadena Showcase House of Design – Samantha Williams Interior Design
PSHA has been fortunate to have a long time relationship with Sponsor Dunn-Edwards Paints that has sustained us for over fifty years and has grown stronger.
They have provided paint, and that alone, is worthy of our deep gratitude because it is a generous contribution that makes a significant difference to this project.
Additionally they have helped to guide us about upcoming color trends from their mountains of research. We have also asked for their assistance in marketing the Showcase House and like good friends they always come through for us. And then when we said, "By the way, we need money too," they were there with a substantial check.
It is hard to know how to thank friends like this. In 2019 we commissioned this poster and presented it to Dunn-Edwards Paints at a special meeting of members and designers before the first tour of the 2019 Showcase House. It was a small gesture but full of sincere appreciation to try to express how important this relationship is to us. Their paint, their support, their expertise and their friendship are invaluable.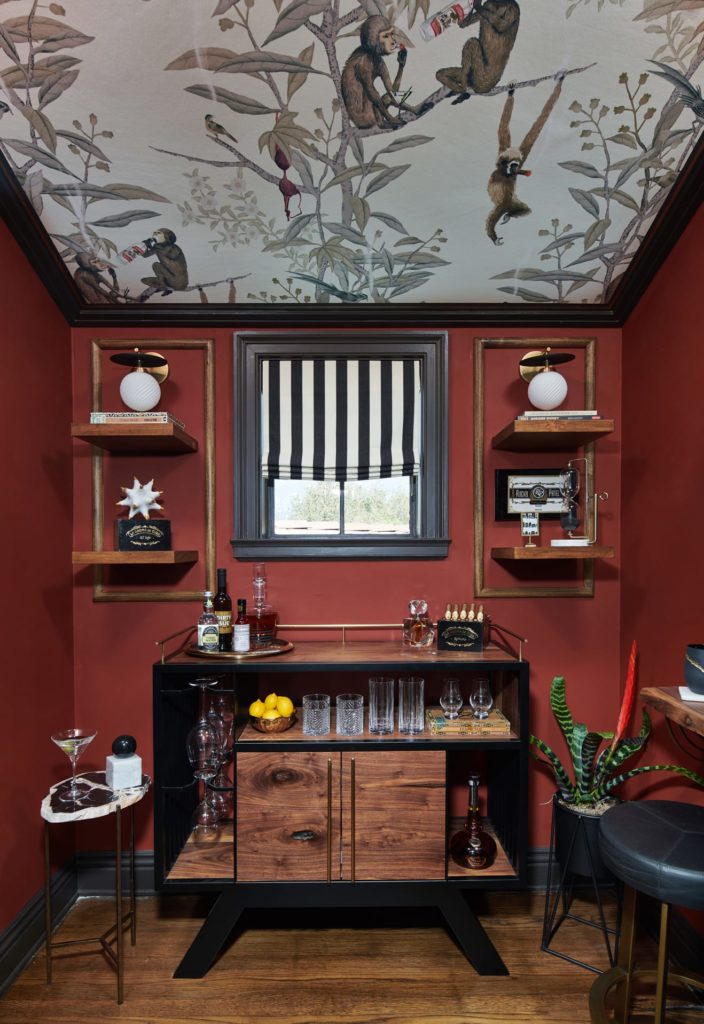 Cigar and Craft Retreat - 2019 Pasadena Showcase House of Design - Studio Akiko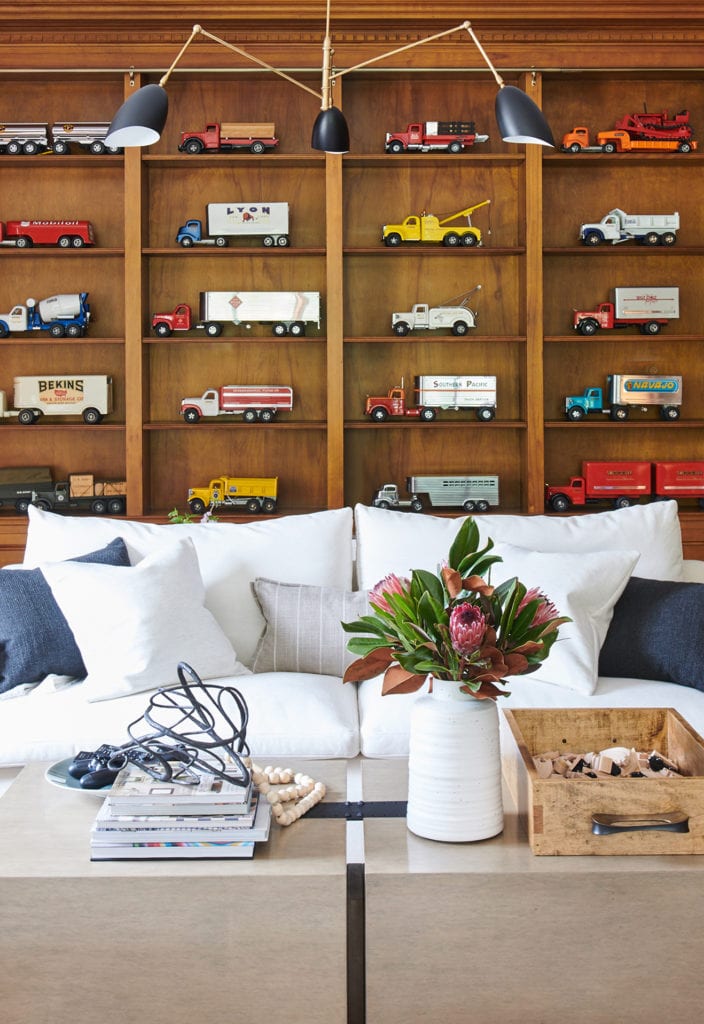 Modern Family Salon – 2019 Pasadena Showcase House of Design – Four Point Design Build, Inc.
Breakfast / Morning Room – 2020 Pasadena Showcase House of Design – Cozy•Stylish•Chic
Each year the Showcase House is enhanced by culinary offerings. Depending on the space available, it can include a full-service restaurant, a Gourmet-to-Go quick service option, a pub, al fresco dining, a wine bar, or all of the above. 
Additionally, a selection of fine wines will be available to complement your dining experience.
Please come by. We know your visit and your day just got a bit better.
Unique jewelry offered by Designer Sterling in the Shops at Showcase.
An essential of the Showcase experience is visiting the Shops at Showcase. The Shops features merchants from throughout California who have been carefully selected to offer visitors a variety of merchandise and prices. There is literally something for everyone!
The Shops include unique designer jewelry, charming linens from Provence, a selection of delectable gourmet food items, clothing that ranges from the edgy to classic, lovely gift and garden items, specialty cards, and assortment of housewares from practical to luxurious.
Many Showcase visitors enjoy the opportunity to shop for holidays, birthdays, and other celebrations. Visitors may return to The Shops at Showcase without a ticket at any time during Showcase is open to the public.
See you at Shops at Showcase!
Blasts from the past. We've uploaded the Programs from past Showcase Houses. Feel free to browse. And, the transformation videos that are shown on the shuttles are posted here, too. Get some popcorn and settle in. It's a fascinating look back.
Stay Connected
Sign up for updates and follow us on social media to get the latest news.