The 2020 Pasadena
Showcase House of Design
Ultimate Viewpoints:56
Ultimate Viewpoints:56 is now available.
A 360˚ interactive experience of the
2020 Pasadena Showcase House of Design
Tickets provide unlimited access for two weeks from the time of purchase.
An immersive experience, Ultimate Viewpoints:56  includes aerial video, drone-like perspectives, 360° "zoomable" interior views, video interviews with the designers and resources on the latest design trends. The tour also includes the digital companion program. We can't wait for you to come in and look around.  Linger and see it more intimately than ever before. We hope you enjoy your visit to the 2020 Pasadena Showcase House of Design.
Thank you for your patience as we converted our Showcase House tour into our first-ever virtual experience.  We truly appreciate your sustained support, especially given the challenging year we've all experienced.
We're pleased to announce the


2020 Pasadena Showcase House of Design
We're pleased to announce the fall unveiling of the 2020 Showcase House. Pasadena Showcase House for the Arts has selected Locke House – a 1937 Federal-country estate designed by Hollywood's society architect, Gerard R. Colcord, to be the 2020 Pasadena Showcase House of Design. Situated on park-like grounds, Locke House is a 6,700 square-foot two-story family home that features six bedrooms and five bathrooms.
Prominent features of the home include brick veneer on the walls of the main block, wood shingles on the walls of the two end wings, elongated windows at the first level, small dormers with circular head windows on the second floor, and a Georgian-style broken pediment crowns the front door.
According to Bret Parsons, architectural expert and historian who has authored several books including Colcord: Home, the Locke House was inspired by country houses built in the eastern United States between 1776-1820. Named after America's first political party, Federal-style design was derived from Greek and Roman architecture to embody the ideals of Greek democracy and the Roman Republic.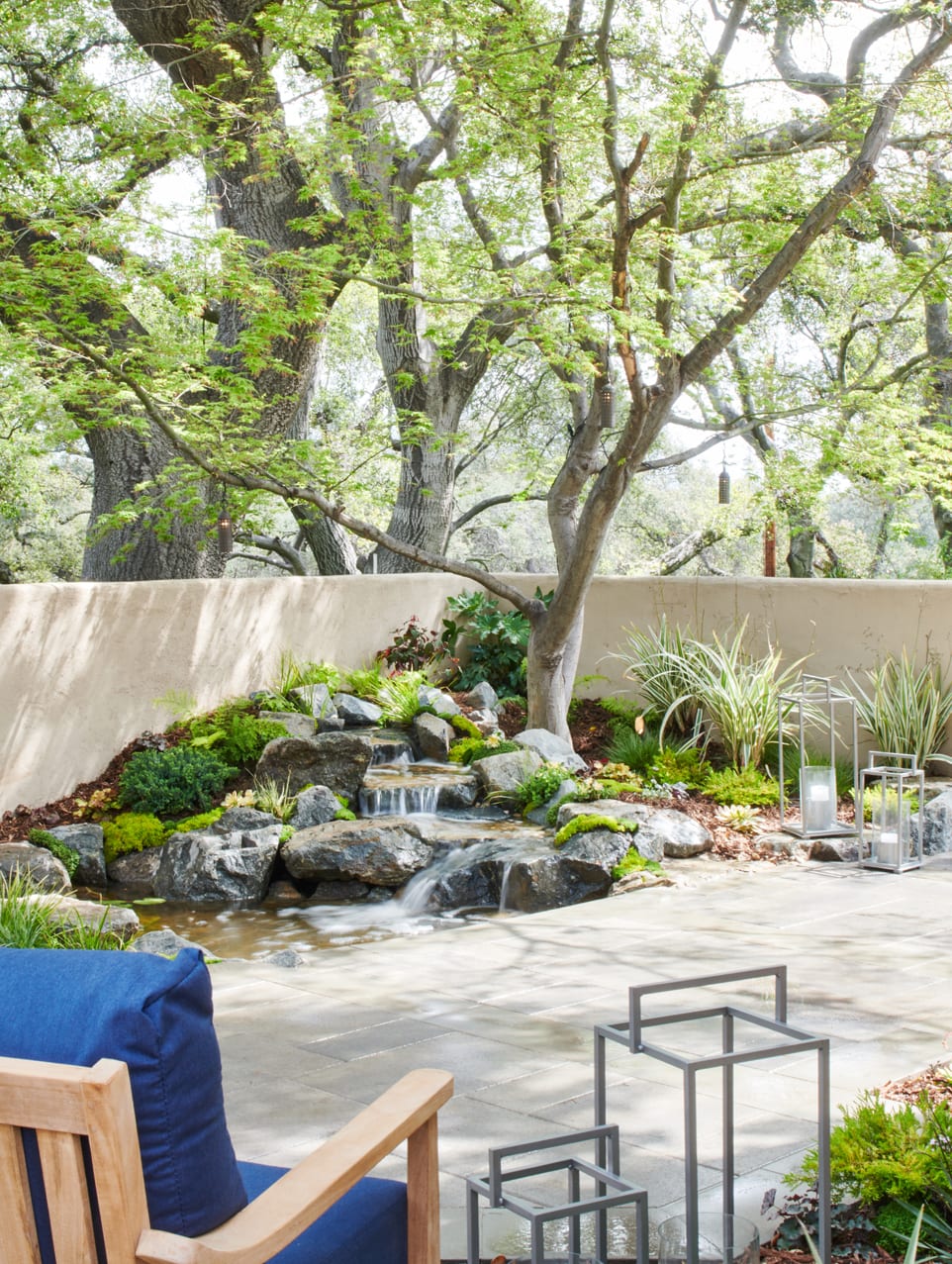 Hidden Oasis – 2019 Pasadena Showcase House of Design – California Waterscapes
Pasadena Showcase House of Design is the fundraiser produced by Pasadena Showcase House for the Arts to fund their music programs and award gifts and grants to other non-profit organizations to support their efforts. It is open for tours mid-April to mid-May.
What does it take to be a Showcase House? There is no ideal house that meets all the criteria; so, every year the advantages are weighed against the disadvantages of the properties available for that year. Some years we have a plethora from which to choose, and some years, well, there are fewer. Two staircases is at the top of the must-have list, a wide road for the shuttles, space for Shops, porta-potties, trash, etc. are the practicalities that influence the selection.
Sometimes there are grand mansions and other times charming homes on a smaller scale are chosen. No matter the square footage, each estate is renovated from top to bottom by leading designers using the latest concepts and materials. So, indulge your inner looky-loo. Take a look behind the gates and come have a good time. And, it doesn't hurt that you're helping support your community at the same time. What a deal!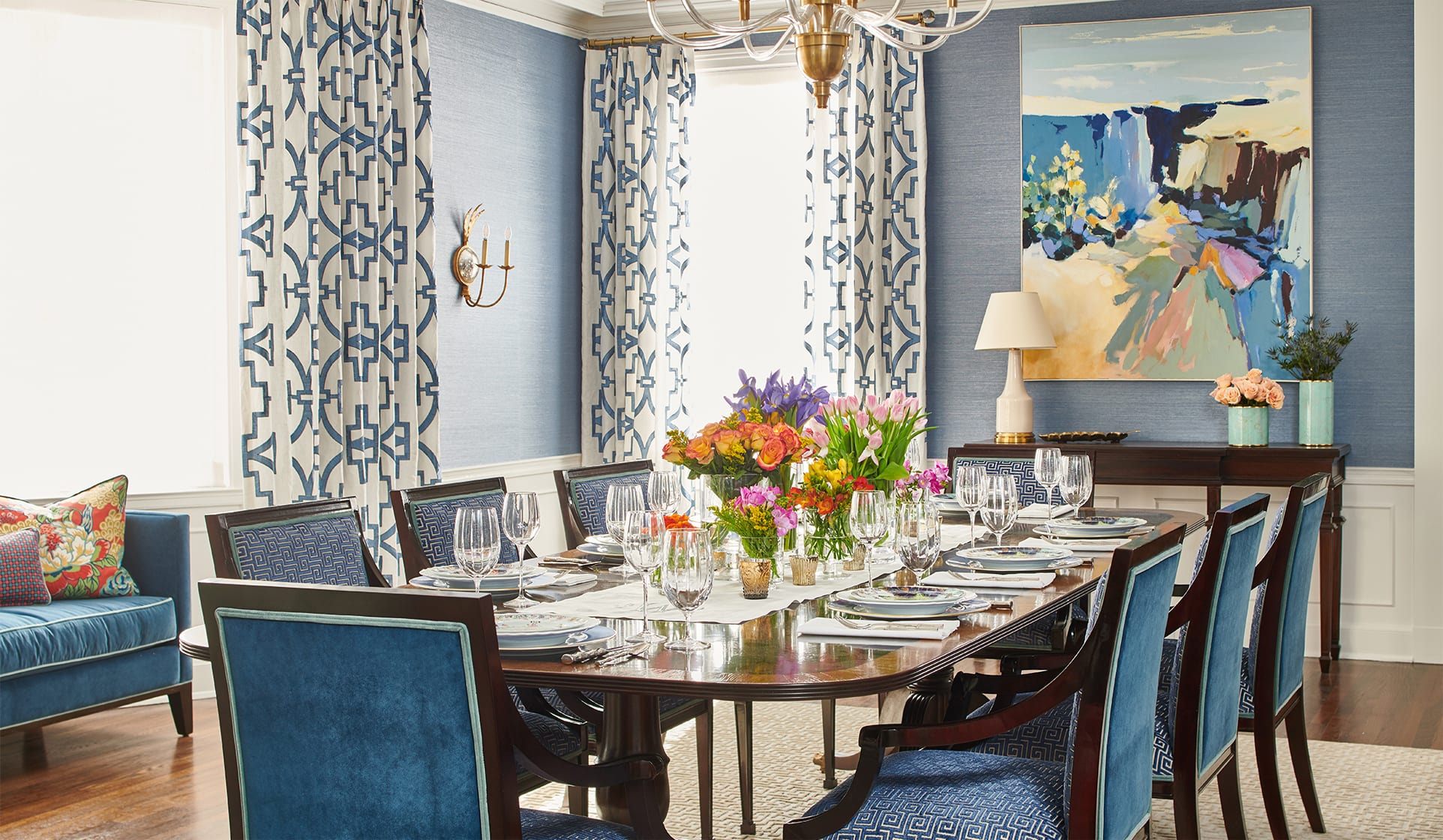 Dining Room – 2019 Pasadena Showcase House of Design – Samantha Williams Interior Design
PSHA has been fortunate to have a long time relationship with Sponsor Dunn-Edwards Paints that has sustained us for over fifty years and has grown stronger.
They have provided paint, and that alone, is worthy of our deep gratitude because it is a generous contribution that makes a significant difference to this project.
Additionally they have helped to guide us about upcoming color trends from their mountains of research. We have also asked for their assistance in marketing the Showcase House and like good friends they always come through for us. And then when we said, "By the way, we need money too," they were there with a substantial check.
It is hard to know how to thank friends like this. In 2019 we commissioned this poster and presented it to Dunn-Edwards Paints at a special meeting of members and designers before the first tour of the 2019 Showcase House. It was a small gesture but full of sincere appreciation to try to express how important this relationship is to us. Their paint, their support, their expertise and their friendship are invaluable.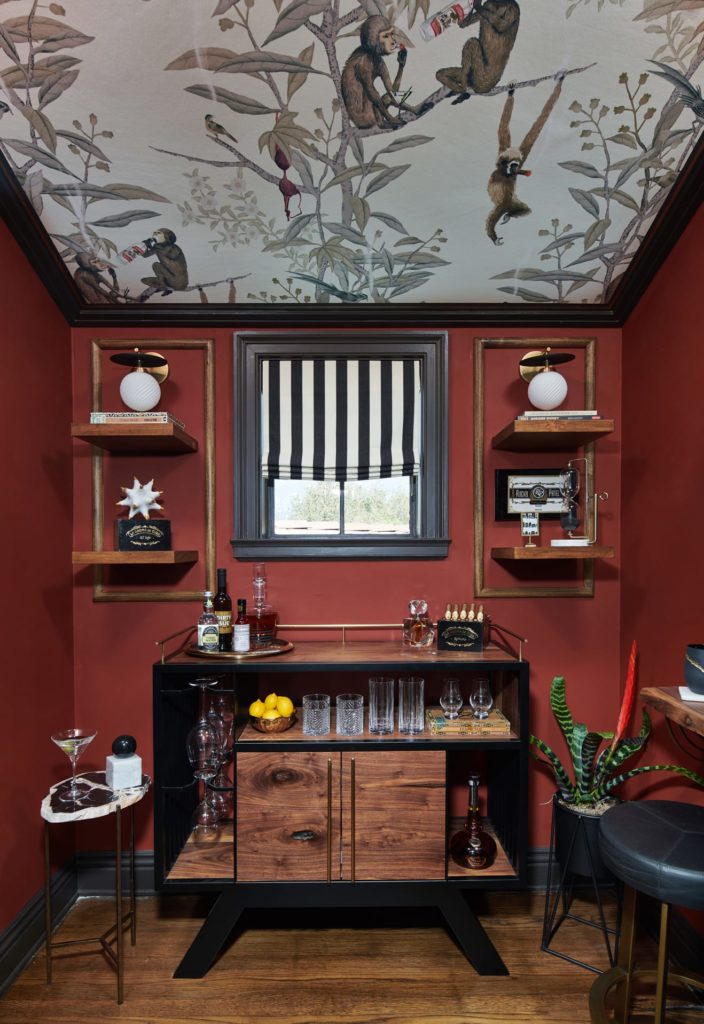 Cigar and Craft Retreat - 2019 Pasadena Showcase House of Design - Studio Akiko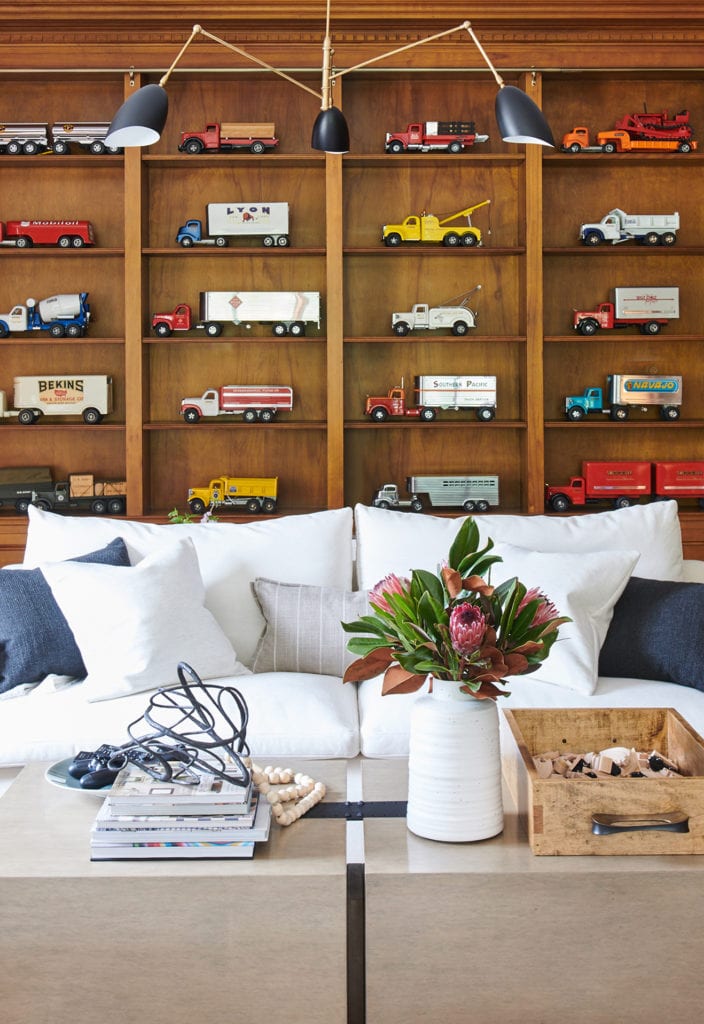 Modern Family Salon – 2019 Pasadena Showcase House of Design – Four Point Design Build, Inc.
Breakfast / Morning Room – 2020 Pasadena Showcase House of Design – Cozy•Stylish•Chic
A culinary delight prepared by the talented chefs at Sierra Fusion.
Each year the Showcase House is enhanced by culinary offerings. Depending on the space available, it can include a full service restaurant, a Gourmet-to-Go quick service option, a pub, al fresco dining, a wine bar, or all of the above. 
For 2020 we selected Sierra Fusion and Executive Chef Edward Ungrue, along with Joseph Ungrue and Christina Duarte, have been selected to cater the Restaurant at Showcase. These local restaurateurs and caterers, are known for superb sushi and delicious culinary creations. 
Unique jewelry offered by Designer Sterling in the Shops at Showcase.
There is literally something for everyone! A delightful part of the Showcase experience is visiting the Shops at Showcase.
These shops are made up of merchants who have been carefully selected to offer guests a variety of merchandise with a broad range of price points. The shops often include French linens from Provence, handcrafted designer jewelry, a selection of delectable edibles for the gourmet and innovative home décor.
The shops are a great place to buy for holidays, birthdays and other special celebrations. Guests appreciate that 25% of the purchase price is considered a charitable contribution. PSHA provides guests with receipts for tax purposes.
By purchasing items from this fascinating marketplace, part of the proceeds will fund programs that PSHA underwrites. The success of the Showcase House has enabled us to make cumulative donations of more than $23 million to support music and the arts through the years.
Each year, 20 to 35 vendors are invited to participate, depending on the amount of available space. There is a participation fee depending on the booth size. Depending on the venue, the Shops at Showcase can be in one large tent or individual festival tents. PSHA arranges for and pays for the tents, utilities, security, and staffs the checkout booth. PSHA accepts all credit cards, debit cards and cash.
We truly appreciate the efforts of the twenty-six vendors who worked with us on this year's Shops at Showcase!
Blasts from the past. We've uploaded the Programs from past Showcase Houses. Feel free to browse. And, the transformation videos that are shown on the shuttles are posted here, too. Get some popcorn and settle in. It's a fascinating look back.
Stay Connected
Sign up for updates and follow us on social media to get the latest news.